When I first saw this I was like, "Whaaat! A Book Love Tag!? I LOVE BOOKS!" but it wasn't what I thought it was.  But it's still cool!
Thank you Reg @ She Latitude for nominating me to do this! Rarely do I mention my book couples, so this will be a treat.
Your Favorite Book Couple.
Oh my. Oh my. I can't lie. I KNOW I SAID SOMETHING DIFFERENT WHEN I DID THE SUNSHINE BLOGGER AWARD, BUT, my all time favorite is Hadley Sullivan and Oliver (I don't know his last name oops!) from The Statistical Probability of Love at First Sight by Jennifer E. Smith. Gosh, I love them. I LOVE YOU GUYS.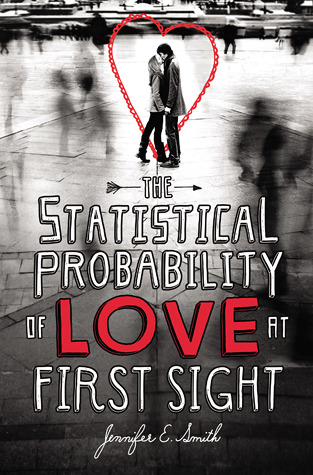 This is literally SUCH A CUTE STORY and if you haven't read it then you SHOULD. I unfortunately can't review it since I've already read it and I don't review books I've already read before, but it's amazing.
Your Top Three Book Boy/Girlfriends.
Okay:
Oliver from The Statistical Probability of Love at First Sight is in my top three.
Cam Cambell from How I Fall by Anne Eliot (which I did review!).
The Boy from The Boy with Words by C.E. Wilson (which I also reviewed). He wasn't really a boyfriend from my perspective, but I wish he was mine.
All three of these guys were super sweet, adorable, patient, and kind and I loved reading about them. There were no "I have a dark and mysterious past that makes me give off red flags. I also punch walls and break things when I'm angry to let you know that I may be abusive later in our relationship." issues. They were just "regular" amazing men and I love them.
Imagine your favourite book couple. Who would propose, and how? (If there's already been a proposal: who would be more into organising the wedding?)
Ahhhh. SO. Oliver would do this (propose):
"Hadley."
"Yeah?"
"Remember how I told you I was studying the statistical probability of love at first sight?"
Hadley laughs and my stomach flips. "Yeah, I remember. I thought you were joking. You were so cute on that plane, I guess jet lag took all your good looks."
I smile while she looks at me with a mischievous look on her face, no doubt waiting for a sly remark. I take a deep breath through my nose before getting down on one knee. "I've since learned that statistics have nothing to do with love. That probability and the like flies out of the window as soon as love is involved. Love, at its core, cannot be studied, but by George I would love to explore it with you. Will you marry me, Hadley Sullivan?"
Unpopular opinions time! Name a popular pairing you can't stand.
Ugh! I can't stand the Peeta/Katniss and the Gale/Katniss pairings. I just didn't. They felt like insta-love even though they've known each other for a while and I just can't stand (most) love triangles.
What's your favourite and least favourite romance trope?
My favorite would be best friends to lovers (boyfriend-girlfriend I mean, I'm not sure why the word lovers feels like it means something totally different). Even though I don't like how most books do it, sometimes I find gems that have me swooning.
My least favorite would (I'm sure it's obvious) love triangles. They're usually really unrealistic, play on stereotype that the girl/heroine can't make up her mind between the two, and are only there to create some false conflict that's meaningless. Just ugh.
Do you ship non-canon couples often? Name some if you do.
Nope! At least, I can't remember doing so.
Your opinion on love triangles. Go!
Can't you tell? NO! NO! NO! GOODBYE! GROSS! UNWANTED! SCRAM! GET OUT OF MY BOOKS!
Favourite and least favourite love triangle?
I don't enjoy love triangles so…but one I didn't mind was the love triangle in White Hart by Sarah Dalton (which I reviewed as well!). It wasn't two guys love one girl, but two girls love/like one guy. It wasn't a way to push the plot and even though I don't really enjoy love triangles, I wasn't annoyed by this one.
Least favourite? Off the top of my head, I'll have to go back to the Hunger Games. I can't think of any other ones right now.
Sometimes romance just isn't the way to go. Favourite friendship?
I don't know if it's my favorite, but I like the friendship between Nath and Brenwar in The Chronicles of Dragon by Craig Halloran, which, by the way, I also reviewed.
What's your favourite scene with your bookish OTP?
SPOILER!
"Let's dance."
"Here?"
"I was thinking side, actually." He glances around-his eyes skipping from the carpeted steps to the restless bellhop to the cars lining up outside the entrance-then nods. "But why not?"
Hadley rises to her feet and smoothes her dress, and then Oliver positions his hands like a professional ballroom dancer, one on her back and the other in the air. His form is perfect, his face serious, and she steps into his waiting arms with a sheepish grin.
"I have no idea how to dance like this."
"I'll show you," he says, but they still haven't moved an inch. They're just standing there, poised and ready, as if waiting for the music to begin, both of them unable to stop smiling. His hand on her back is like something electric, and being here like this, so suddenly close to him, is enough to make her lightheaded. It's a feeling like falling, like forgetting the words to a song.
"I can't believe you're here," she says, her voice soft. "I can't believe you found me."
"You found me first," he says, and when he leans to kiss her, it's slow and sweet and she knows that this will be the one she always remembers. Because while the other two kisses felt like endings, this one is unquestionably a beginning."
UGH, isn't that BEAUTIFUL?
Imagine your favourite book couple again. Who's most excited about Valentine's Day (either ironically or genuinely)?
Truthfully, I can see Oliver being the most excited, and it's genuine too. I don't know why, but I feel like he would love to make a big cheesy deal out of it while Hadley laughs but goes along.
Nominations:
Maggie @ Maggie's Musings
Kelly @ Kelly's Book Blog
Casey @ Adoptabookaus
Niraja @ Fantastic Books and Where to Find Them
Maja @ Mayathebookexplorer